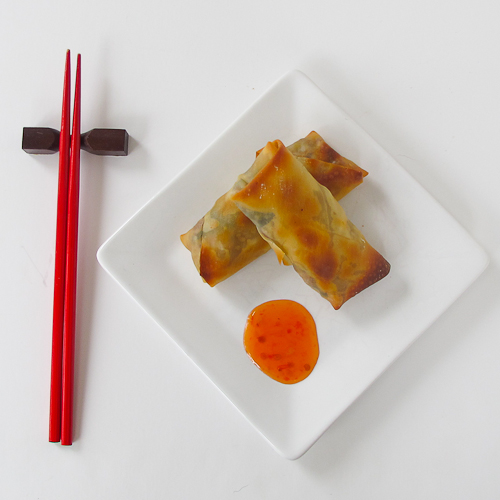 Upfront, spring rolls should be fried. Really, they should. But sometimes, you don't want to deal with the oil, or you want to eat about 4-5 of them without [as much] guilt. Just remember, when you cut corners, you give something up. These are not going to be a miracle replacement for fried spring rolls. You good with that? You sure? Ok, let's talk baked spring rolls.


The filling is extra flavorful, with an extra kick from chili garlic sauce, to compensate for what you lose in texture by baking these little rolls. Along with the ground pork, it's chock full of vegetables — baby bok choy, carrot, crimini mushroom, green onion, ginger. It would also work well in gyoza, which are pan fried and steamed.
So, I baked two batches. The first one was ok, but 400F was a little low, even when the rolls were brushed with egg and baked on parchment. It was light browning at best. The second batch I put on a rack on a cookie sheet, brushed them with vegetable oil and baked at 425F. Better browning. I think the ideal method is a combo of the two — higher heat, brushed with oil, baked on parchment and turned over half way through baking.
They're best eaten the day they're made, though you can certainly rewarm them in the microwave. They're just not as pretty.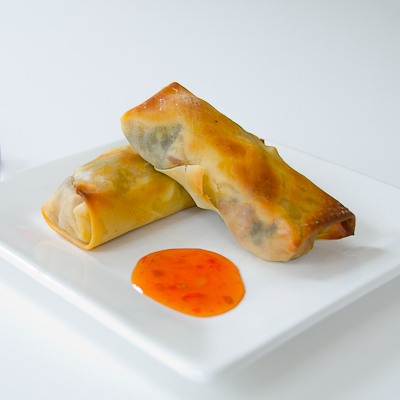 Ingredients
1/2 lb. ground pork

3 t. cornstarch

3 t. soy sauce

1 t. vegetable oil + extra for brushing the rolls before baking

1 small carrot, grated

3 small baby bok choy, chopped

4-5 crimini mushrooms, finely chopped

2 green onions, whites and greens, finely chopped

1 T. fresh ginger, minced

1/2 c. chicken broth

2 t. chili garlic sauce (or more to taste – Huy Fong brand recommended)

8 spring/egg roll wrappers

Sweet chili sauce for dipping
Instructions
1
Preheat oven to 425F. Line a baking sheet with parchment paper.
2
Mix ground pork together with 1 t. soy sauce and 1 t. cornstarch. Set aside.
3
Mix together 1/4 c. chicken stock and 2 t. cornstarch. Set aside.
4
Heat a non-stick skillet over medium heat. Add vegetable oil. Brown the ground pork, breaking it up into very small pieces. Add the vegetables and cook for 2-3 minutes until wilted. Add 1/4 c. chicken broth and continue cooking for 1-2 minutes. Add in remaining chicken broth/cornstarch mixture and simmer until thickened. Stir in chili garlic sauce.
5
Drain the meat mixture in a colander. You don't want all the liquid, it'll sog out the spring roll wrappers.
7
Arrange spring rolls on the baking sheet as you go. Brush with vegetable oil. Bake for 10-15 minutes until browned, flip the rolls over and bake for another 8-10 minutes, or until lightly browned on the second side.